产品特色
常规的生长因子在培养基内,浓度从一开始的最大值,短时间内急剧下降到最小值,并不能模拟真实的生理状况,进而产生理想的实验数据。

生长因子半衰期短,将它包裹在PODS多角体蛋白(polyhedrin)晶格内,可延长它的稳定性,保护它不受物理性及化学性伤害。

当接触到培养基或是其他细胞培养环境时,PODS晶体会逐渐释出生长因子,产生贴近实际生理状况的浓度曲线,并提供最佳的实验结果。

PODS晶体与水凝胶(hydrogel)结合,可以在几天、几周或是几个月之内稳定释出生长因子。

可以按照生理学上所需的生长因子浓度梯度,将PODS晶体附着在培养基的不同地方。

生长因子蛋白结构折叠完整,并在昆虫细胞内做蛋白质转译后修饰。

生长因子不含动物来源成分,在严格品管下生产并且经过功能测试,保质期长。

美国哈佛大学Jennifer Shay老师推荐使用。
实验数据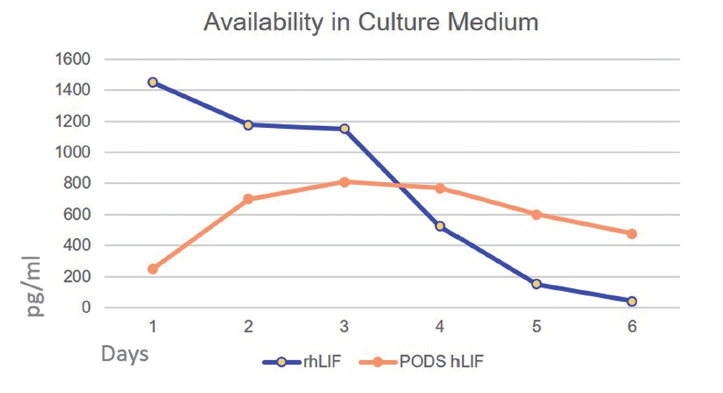 使用ELISA试验测量6天内PODS生长因子(橘色)与其他品牌重组生长因子(蓝色)的浓度变化。第1天,其他品牌重组生长因子的浓度达到最大值,然而到第6天浓度就几乎为零。相对的,PODS生长因子在第6天的浓度仍高达最大值的50%。
参考文献
C. Fasséli, et al. The molecular organization of cypovirus polyhedra. (2007) Nature. 446: 97-101.

Rey FA. Virology: Holed up in a natural crystal. (2007) Nature. 446: 35-37.

Mori H. Immobilization of Bioactive Growth Factors into Cubic Proteinous Microcrystals (Cypovirus Polyhedra) and Control of Cell Proliferation and Differentiation. (2010) NSTI-Nanotech. 3: 222-225.

Abe S, et al. Design of Enzyme-Encapsulated Protein Containers by In-Vivo Crystal Engineering. (2015) Advanced Materials. 27(48): 7951-7956.
上海逍鹏生物是英国Cell Guidance Systems中国授权总代理商。查看CellGS授权
Cell guidance systems, CellGS PODS Grow factor生长因子列表:
| | | |
| --- | --- | --- |
| CellGS P/N | Product Name | Pack Size |
| PPH6-50 | PODS™ Human Activin A | 50 million |
| PPH6-250 | PODS™ Human Activin A | 250 million |
| PPH6-1000 | PODS™ Human Activin A | 1 billion |
| PPM29-50 | PODS™ Mouse Activin A | 50 million |
| PPM29-250 | PODS™ Mouse Activin A | 250 million |
| PPM29-1000 | PODS™ Mouse Activin A | 1 billion |
| PPR6-50 | PODS™ Rat Activin A | 50 million |
| PPR6-250 | PODS™ Rat Activin A | 250 million |
| PPR6-1000 | PODS™ Rat Activin A | 1 billion |
| PPH307-50 | PODS™ Human Activin B | 50 million |
| PPH307-250 | PODS™ Human Activin B | 250 million |
| PPH307-1000 | PODS™ Human Activin B | 1 billion |
| PPH1-50 | PODS™ Human BDNF | 50 million |
| PPH1-250 | PODS™ Human BDNF | 250 million |
| PPH1-1000 | PODS™ Human BDNF | 1 billion |
| PPH56-50 | PODS™ Human BMP-4 | 50 million |
| PPH56-250 | PODS™ Human BMP-4 | 250 million |
| PPH56-1000 | PODS™ Human BMP-4 | 1 billion |
| PPH308-50 | PODS™ Human BMP-10 | 50 million |
| PPH308-250 | PODS™ Human BMP-10 | 250 million |
| PPH308-1000 | PODS™ Human BMP-10 | 1 billion |
| PPH25-50 | PODS™ Human CD40 Ligand | 50 million |
| PPH25-250 | PODS™ Human CD40 Ligand | 250 million |
| PPH25-1000 | PODS™ Human CD40 Ligand | 1 billion |
| PPH59-50 | PODS™ Human CNTF | 50 million |
| PPH59-250 | PODS™ Human CNTF | 250 million |
| PPH59-1000 | PODS™ Human CNTF | 1 billion |
| PPH309-50 | PODS™ Human DKK-1 | 50 million |
| PPH309-250 | PODS™ Human DKK-1 | 250 million |
| PPH309-1000 | PODS™ Human DKK-1 | 1 billion |
| PPH26-50 | PODS™ Human EGF | 50 million |
| PPH26-250 | PODS™ Human EGF | 250 million |
| PPH26-1000 | PODS™ Human EGF | 1 billion |
| PPH310-50 | PODS™ Human Ephrin-A1 | 50 million |
| PPH310-250 | PODS™ Human Ephrin-A1 | 250 million |
| PPH310-1000 | PODS™ Human Ephrin-A1 | 1 billion |
| PPH311-50 | PODS™ Human Ephrin-A3 | 50 million |
| PPH311-250 | PODS™ Human Ephrin-A3 | 250 million |
| PPH311-1000 | PODS™ Human Ephrin-A3 | 1 billion |
| PPH312-50 | PODS™ Human Ephrin-A4 | 50 million |
| PPH312-250 | PODS™ Human Ephrin-A4 | 250 million |
| PPH312-1000 | PODS™ Human Ephrin-A4 | 1 billion |
| PPH313-50 | PODS™ Human Ephrin-B2 | 50 million |
| PPH313-250 | PODS™ Human Ephrin-B2 | 250 million |
| PPH313-1000 | PODS™ Human Ephrin-B2 | 1 billion |
| PPM301-50 | PODS™ Mouse Ephrin-B2 | 50 million |
| PPM301-250 | PODS™ Mouse Ephrin-B2 | 250 million |
| PPM301-1000 | PODS™ Mouse Ephrin-B2 | 1 billion |
| PPH325-50 | PODS™ Human EPO | 50 million |
| PPH325-250 | PODS™ Human EPO | 250 million |
| PPH325-1000 | PODS™ Human EPO | 1 billion |
| PPH29-50 | PODS™ Human FGF-1 | 50 million |
| PPH29-250 | PODS™ Human FGF-1 | 250 million |
| PPH29-1000 | PODS™ Human FGF-1 | 1 billion |
| PPH146-50 | PODS™ Human FGF-2 (154) | 50 million |
| PPH146-250 | PODS™ Human FGF-2 (154) | 250 million |
| PPH146-1000 | PODS™ Human FGF-2 (154) | 1 billion |
| PPH187-50 | PODS™ Human FGF-7 | 50 million |
| PPH187-250 | PODS™ Human FGF-7 | 250 million |
| PPH187-1000 | PODS™ Human FGF-7 | 1 billion |
| PPH183-50 | PODS™ Human FGF-10 | 50 million |
| PPH183-250 | PODS™ Human FGF-10 | 250 million |
| PPH183-1000 | PODS™ Human FGF-10 | 1 billion |
| PPH326-50 | PODS™ Human FGF-19 | 50 million |
| PPH326-250 | PODS™ Human FGF-19 | 250 million |
| PPH326-1000 | PODS™ Human FGF-19 | 1 billion |
| PPH148-50 | PODS™ Human FGF-21 | 50 million |
| PPH148-250 | PODS™ Human FGF-21 | 250 million |
| PPH148-1000 | PODS™ Human FGF-21 | 1 billion |
| PPH41-50 | PODS™ Human Follistatin | 50 million |
| PPH41-250 | PODS™ Human Follistatin | 250 million |
| PPH41-1000 | PODS™ Human Follistatin | 1 billion |
| PPH314-50 | PODS™ Human Gastrin | 50 million |
| PPH314-250 | PODS™ Human Gastrin | 250 million |
| PPH314-1000 | PODS™ Human Gastrin | 1 billion |
| PPH72-50 | PODS™ Human G-CSF | 50 million |
| PPH72-250 | PODS™ Human G-CSF | 250 million |
| PPH72-1000 | PODS™ Human G-CSF | 1 billion |
| PPH2-50 | PODS™ Human GDNF | 50 million |
| PPH2-250 | PODS™ Human GDNF | 250 million |
| PPH2-1000 | PODS™ Human GDNF | 1 billion |
| PPH8-50 | PODS™ Human GM-CSF | 50 million |
| PPH8-250 | PODS™ Human GM-CSF | 250 million |
| PPH8-1000 | PODS™ Human GM-CSF | 1 billion |
| PPH77-50 | PODS™ Human IFN-γ | 50 million |
| PPH77-250 | PODS™ Human IFN-γ | 250 million |
| PPH77-1000 | PODS™ Human IFN-γ | 1 billion |
| PPH34-50 | PODS™ Human IGF-1 | 50 million |
| PPH34-250 | PODS™ Human IGF-1 | 250 million |
| PPH34-1000 | PODS™ Human IGF-1 | 1 billion |
| PPH12-50 | PODS™ Human IL-2 | 50 million |
| PPH12-250 | PODS™ Human IL-2 | 250 million |
| PPH12-1000 | PODS™ Human IL-2 | 1 billion |
| PPH10-50 | PODS™ Human IL-6 | 50 million |
| PPH10-250 | PODS™ Human IL-6 | 250 million |
| PPH10-1000 | PODS™ Human IL-6 | 1 billion |
| PPH83-50 | PODS™ Human IL-10 | 50 million |
| PPH83-250 | PODS™ Human IL-10 | 250 million |
| PPH83-1000 | PODS™ Human IL-10 | 1 billion |
| PPH200-50 | PODS™ Human LIF | 50 million |
| PPH200-250 | PODS™ Human LIF | 250 million |
| PPH200-1000 | PODS™ Human LIF | 1 billion |
| PPH315-50 | PODS™ Human MANF | 50 million |
| PPH315-250 | PODS™ Human MANF | 250 million |
| PPH315-1000 | PODS™ Human MANF | 1 billion |
| PPH316-50 | PODS™ Human NGF (Full) | 50 million |
| PPH316-250 | PODS™ Human NGF (Full) | 250 million |
| PPH316-1000 | PODS™ Human NGF (Full) | 1 billion |
| PPH317-50 | PODS™ Human NGF (Mature) | 50 million |
| PPH317-250 | PODS™ Human NGF (Mature) | 250 million |
| PPH317-1000 | PODS™ Human NGF (Mature) | 1 billion |
| PPH318-50 | PODS™ Human Nodal | 50 million |
| PPH318-250 | PODS™ Human Nodal | 250 million |
| PPH318-1000 | PODS™ Human Nodal | 1 billion |
| PPH304-50 | PODS™ Human Noggin | 50 million |
| PPH304-250 | PODS™ Human Noggin | 250 million |
| PPH304-1000 | PODS™ Human Noggin | 1 billion |
| PPH99-50 | PODS™ Human NT-3 | 50 million |
| PPH99-250 | PODS™ Human NT-3 | 250 million |
| PPH99-1000 | PODS™ Human NT-3 | 1 billion |
| PPH33-50 | PODS™ Human NT-4 | 50 million |
| PPH33-250 | PODS™ Human NT-4 | 250 million |
| PPH33-1000 | PODS™ Human NT-4 | 1 billion |
| PPH319-50 | PODS™ Human OPN | 50 million |
| PPH319-250 | PODS™ Human OPN | 250 million |
| PPH319-1000 | PODS™ Human OPN | 1 billion |
| PPH18-50 | PODS™ Human PDGF-BB | 50 million |
| PPH18-250 | PODS™ Human PDGF-BB | 250 million |
| PPH18-1000 | PODS™ Human PDGF-BB | 1 billion |
| PPH19-50 | PODS™ Human RANK Ligand | 50 million |
| PPH19-250 | PODS™ Human RANK Ligand | 250 million |
| PPH19-1000 | PODS™ Human RANK Ligand | 1 billion |
| PPH320-50 | PODS™ Human RSPO1 | 50 million |
| PPH320-250 | PODS™ Human RSPO1 | 250 million |
| PPH320-1000 | PODS™ Human RSPO1 | 1 billion |
| PPH321-50 | PODS™ Human RSPO3 | 50 million |
| PPH321-250 | PODS™ Human RSPO3 | 250 million |
| PPH321-1000 | PODS™ Human RSPO3 | 1 billion |
| PPH4-50 | PODS™ Human SCF | 50 million |
| PPH4-250 | PODS™ Human SCF | 250 million |
| PPH4-1000 | PODS™ Human SCF | 1 billion |
| PPH322-50 | PODS™ Human Semaphorin 3C | 50 million |
| PPH322-250 | PODS™ Human Semaphorin 3C | 250 million |
| PPH322-1000 | PODS™ Human Semaphorin 3C | 1 billion |
| PPH168-50 | PODS™ Human SHH | 50 million |
| PPH168-250 | PODS™ Human SHH | 250 million |
| PPH168-1000 | PODS™ Human SHH | 1 billion |
| PPH323-50 | PODS™ Human TGF-α | 50 million |
| PPH323-250 | PODS™ Human TGF-α | 250 million |
| PPH323-1000 | PODS™ Human TGF-α | 1 billion |
| PPH39-50 | PODS™ Human TGF-β 1 | 50 million |
| PPH39-250 | PODS™ Human TGF-β 1 | 250 million |
| PPH39-1000 | PODS™ Human TGF-β 1 | 1 billion |
| PPH324-50 | PODS™ Human TGF-β 2 | 50 million |
| PPH324-250 | PODS™ Human TGF-β 2 | 250 million |
| PPH324-1000 | PODS™ Human TGF-β 2 | 1 billion |
| PPH109-50 | PODS™ Human TGF-β 3 | 50 million |
| PPH109-250 | PODS™ Human TGF-β 3 | 250 million |
| PPH109-1000 | PODS™ Human TGF-β 3 | 1 billion |
| PPH111-50 | PODS™ Human TNF-α | 50 million |
| PPH111-250 | PODS™ Human TNF-α | 250 million |
| PPH111-1000 | PODS™ Human TNF-α | 1 billion |
| PPM34-50 | PODS™ Mouse VEGF-164 | 50 million |
| PPM34-250 | PODS™ Mouse VEGF-164 | 250 million |
| PPM34-1000 | PODS™ Mouse VEGF-164 | 1 billion |
| PPH44-50 | PODS™ Human VEGF-165 | 50 million |
| PPH44-250 | PODS™ Human VEGF-165 | 250 million |
| PPH44-1000 | PODS™ Human VEGF-165 | 1 billion |
| PPH330-50 | PODS™ Human Wnt-1 | 50 million |
| PPH330-250 | PODS™ Human Wnt-1 | 250 million |
| PPH330-1000 | PODS™ Human Wnt-1 | 1 billion |
| PPH331-50 | PODS™ Human Wnt-2 | 50 million |
| PPH331-250 | PODS™ Human Wnt-2 | 250 million |
| PPH331-1000 | PODS™ Human Wnt-2 | 1 billion |
| PPH332-50 | PODS™ Human Wnt-2b | 50 million |
| PPH332-250 | PODS™ Human Wnt-2b | 250 million |
| PPH332-1000 | PODS™ Human Wnt-2b | 1 billion |
| PPH333-50 | PODS™ Human Wnt-3 | 50 million |
| PPH333-250 | PODS™ Human Wnt-3 | 250 million |
| PPH333-1000 | PODS™ Human Wnt-3 | 1 billion |
| PPH300-50 | PODS™ Human Wnt-3a | 50 million |
| PPH300-250 | PODS™ Human Wnt-3a | 250 million |
| PPH300-1000 | PODS™ Human Wnt-3a | 1 billion |
| PPH334-50 | PODS™ Human Wnt-4 | 50 million |
| PPH334-250 | PODS™ Human Wnt-4 | 250 million |
| PPH334-1000 | PODS™ Human Wnt-4 | 1 billion |
| PPH335-50 | PODS™ Human Wnt-5a | 50 million |
| PPH335-250 | PODS™ Human Wnt-5a | 250 million |
| PPH335-1000 | PODS™ Human Wnt-5a | 1 billion |
| PPH336-50 | PODS™ Human Wnt-5b | 50 million |
| PPH336-250 | PODS™ Human Wnt-5b | 250 million |
| PPH336-1000 | PODS™ Human Wnt-5b | 1 billion |
| PPH337-50 | PODS™ Human Wnt-7a | 50 million |
| PPH337-250 | PODS™ Human Wnt-7a | 250 million |
| PPH337-1000 | PODS™ Human Wnt-7a | 1 billion |
| PPH338-50 | PODS™ Human Wnt-7b | 50 million |
| PPH338-250 | PODS™ Human Wnt-7b | 250 million |
| PPH338-1000 | PODS™ Human Wnt-7b | 1 billion |
| PPH339-50 | PODS™ Human Wnt-8a | 50 million |
| PPH339-250 | PODS™ Human Wnt-8a | 250 million |
| PPH339-1000 | PODS™ Human Wnt-8a | 1 billion |
| PPH340-50 | PODS™ Human Wnt-8b | 50 million |
| PPH340-250 | PODS™ Human Wnt-8b | 250 million |
| PPH340-1000 | PODS™ Human Wnt-8b | 1 billion |
| PPH341-50 | PODS™ Human Wnt-9a | 50 million |
| PPH341-250 | PODS™ Human Wnt-9a | 250 million |
| PPH341-1000 | PODS™ Human Wnt-9a | 1 billion |
| PPH342-50 | PODS™ Human Wnt-9b | 50 million |
| PPH342-250 | PODS™ Human Wnt-9b | 250 million |
| PPH342-1000 | PODS™ Human Wnt-9b | 1 billion |
| PPH343-50 | PODS™ Human Wnt-10a | 50 million |
| PPH343-250 | PODS™ Human Wnt-10a | 250 million |
| PPH343-1000 | PODS™ Human Wnt-10a | 1 billion |
| PPH344-50 | PODS™ Human Wnt-10b | 50 million |
| PPH344-250 | PODS™ Human Wnt-10b | 250 million |
| PPH344-1000 | PODS™ Human Wnt-10b | 1 billion |
| PPH345-50 | PODS™ Human Wnt-11 | 50 million |
| PPH345-250 | PODS™ Human Wnt-11 | 250 million |
| PPH345-1000 | PODS™ Human Wnt-11 | 1 billion |
| PPH346-50 | PODS™ Human Wnt-16b | 50 million |
| PPH346-250 | PODS™ Human Wnt-16b | 250 million |
| PPH346-1000 | PODS™ Human Wnt-16b | 1 billion |
| PPH302-50 | PODS™ Empty | 50 million |
延长生长因子稳定性
创造生长因子浓度梯度
美国哈佛大学Jennifer Shay老师推荐使用
Cell guidance systems, CellGS PODS Grow factor生长因子